Gong Satin Fabric:
This fabric is woven using warp and weft. Its density is very high and the fabric is very thick. Sheets made of satin fabric are more expensive than other plain and twill weaves. The quality is good, the fabric is smooth and delicate, and it looks very high-grade fabric. It adopts the manufacturing process of weaving first and then dyeing, and is made of pure color cotton, which will not pilling and fade. Is the best in the sheets.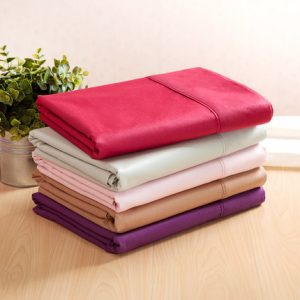 Jacquard fabric:
This fabric is patterned, very delicate, and has very high requirements on raw cotton. Not ordinary raw cotton can do it. And it uses a very complicated dyeing process. It looks very gorgeous and exquisite. Generally there are more than two colors, which is the first choice for people who like rich colors. Such jacquard fabrics will not shrink, will not deform, will not pilling, and will not fade. It is a sheet fabric with strong three-dimensional sense and high appreciation value. And its warming effect is also very good.
Plain weave
This type uses a plain weave, which is relatively strong and not easy to scratch. The sheet of this fabric is relatively flat, because the density is not very high, it is relatively thin. The price is relatively cheap, because the quality is not particularly good, and it is prone to skip yarn defects. But it also belongs to a kind of high-density fabric. Generally speaking, those high-end embroidery fabrics use plain weave fabrics. It is a sheet fabric suitable for summer use.
Twill fabric
There is another kind of fabric that uses warp and weft interwoven fabrics. The interlacing points of this fabric are different, so the sheet fabric is twilled.